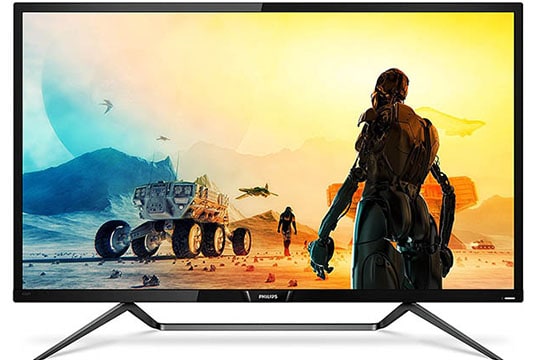 Introduction
The Philips 436M6VBPAB offers just that if you ever wanted a monitor that is as big as a TV but with all the advantages of a monitor!
This giant 43′′ display has performance input lag and response time which is unparalleled by any TV in this price range.
It also offers some proprietary features like support for AMD FreeSync and HDR10 (High Dynamic Range).
Image Quality
The Philips Momentum 436M6VBPAB is based on a dithering (8-bit + 2-bit FRC) VA panel with large 178-degree wide viewing angles, a superior 4,000:1 static contrast ratio, 4 K UHD, and 10-bit color depth.
The display offers vibrant colors that cover 97.6 percent of the DCI-P3 color gamut of 145 percent sRGB or 119 percent NTSC, thanks to its quantum dot technology.
In addition to the wide color gamut and high contrast, the Philips monitor has a stellar typical luminance of up to 720-nits and peak brightness of over 1,000-nits for HDR content.
For the true HDR viewing experience, the Philips 436M6VBPAB monitor includes both VESA DisplayHDR 1000 and Ultra HD Alliance Certificates.
In short, the monitor offers a stunning image quality in shadows and picture highlights with vibrant colors, true blacks and vivid details.
Because of its enormous screen size the display is not as good for regular desktop use as it is for watching movies and console gaming.
If you are looking at the screen from up close, text will appear somewhat fuzzy and unclear, but it's tolerable for everyday web-surfing, check e-mails, and playing PC games.
Performance
The Philips 436M6VBPAB input lag is only about ~6ms which is far less than any TV can achieve; the fastest TVs have an input lag of about 15ms at 4K.
Additionally, with an overdrive response time of 4ms (the Smart Response feature) or ~7ms without, very little ghosting and motion blur is evident in fast-paced games, even in darker scenes.
An OLED TV would of course give you a quicker response time, but it is also considerably more costly. If it comes to pixel transfer level, no LED TV comes close to the Philips 436M6VBPAB.
The monitor has a localized 32-zone dimming that helps dim the pieces of the image that need to be dark; this further increases the contrast ratio to ~7,000:1.
A full-array local dimming would be even better, but the price of the Philips 436M6VBPAB monitor would also be greatly increased.
There were no dead pixels or excessive bleeding in backlight; moreover, the monitor is factory-calibrated and offers a stunning image quality and performance straight out of the box.
Features
To navigate and adjust OSD (On-Screen Display) settings, you can either use the provided remote controller or OSD-joystick on the monitor.
Remember to leave the 'Low Input Lag' setting on in the Setup section of the OSD menu for the best performance input lag.
In addition to the standard adjustments such as brightness , contrast, gamma and colour, temperature, you will find additional exclusive features including the Picture in Picture and Picture By Picture modes and advanced audio settings (EQ, DTS).
In addition, the Philips 436M6VBPAB HDR PC display features the Ambiglow system consisting of RGB LEDs capable of synchronizing with the colors on the image and creating glow underneath the screen's bottom bezel.
Three different HDR modes also exist including VESA HDR 1000, UHDA, Normal, and Off. You should use it depending on what type of content you are playing, the viewing distance, and overall preference though we found VESA preset to work best for the most part.
The monitor supports HDCP 2.2, so you can stream content from Netflix, Amazon Video, etc in native 4K. Lastly, the screen is flicker-free and has a low blue light filter.
AMD FreeSync
On the move, the Philips 436M6VBPAB also supports AMD FreeSync technology but has a limited range of 48-60Hz.
This means if you have a FreeSync-compatible graphics card or an Xbox One S or X console, the monitor will change its refresh rate within 48-60Hz / FPS range according to the frame rate of the GPU.
Within that range, all screen tearing and stuttering will be removed without adding any additional input lag, but as soon as your FPS rate drops below 48, screen tearing and stuttering will begin again until the FPS rate is back to 48 or above.
Update: FreeSync now operates on a compatible NVIDIA G-SYNC graphics card without any problems.
Design & Connectivity
The Philips 436M6VBPAB design resembles a TV although the screen can be tilted by -5 ° /10 ° and mounted by VESA using the 200 x 200 mm pattern. While the chassis sports black glossy plastics, the stand is made of aluminium.
The 436M6VBPAB, like most TVs, has a glossy screen surface which makes the colors more vivid but also makes the screen reflective under strong lights.
Turning to the connectivity, there is a DisplayPort 1.2, a mini-DisplayPort 1.2, an HDMI 2.0, and a USB type C port as well as a headphone jack, a dual USB3.0 hub with fast charging capacity, and two 7W DTS built-in speakers.
Price & Similar Monitors
The price of the Philips 436M6VBPAB is $999.99 MSRP, and you can not get a better display for PS4 Pro and Xbox One X console gaming for that price.
Alternatively, for computer gaming you would want to check out the best 4 K computer gaming consoles and the best 4 K HDR TVs.
Conclusion
Overall the Philips 436M6VBPAB is definitely for you if you want the best monitor for console gaming in terms of both immersion and gameplay responsiveness.
However bear in mind that you might get a 55′′ 4 K HDR TV for ~$250 less, with a better image quality and only slightly higher input lag and slower response time, like the TCL 55R617.
Philips 436M6VBPAB Specifications

Screen Size
42.5-inch
Resolution
3840×2160 (UHD)
Panel Type
VA
Aspect Ratio
16:9 (Widescreen)
Refresh Rate
60Hz
Response Time
4ms (GtG)
Adaptive Sync
FreeSync (48Hz-60Hz)
Speakers
2x7W
Ports
DisplayPort 1.2, mini-DisplayPort, HDMI 2.0
Other Ports
2x USB 3.0, USB-C, Headphone Jack
Brightness
1000 cd/m2
Contrast Ratio
4000:1 (static)
Colors
1.07 billion (8-bit + FRC)
VESA
Yes (200x200mm)
What We Loved
High peak brightness and contrast ratio
Wide color gamut
Low input lag and quick response time
AMD FreeSync and HDR support
Expensive
Narrow FreeSync range
Philips 436M6VBPAB Review
Design – 8.6/10
Display – 9.8/10
Performance – 8.7/10
Price/Value – 8/10
8.8/10
Summary
The Philips 436M6VBPAB is the ideal monitor for console gamers, it has a giant 43-inch screen with low input lag, fast response time, stunning image quality, AMD FreeSync and support for HDR.