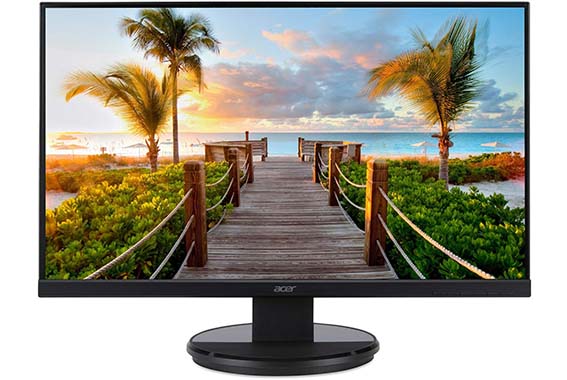 The Acer KB272HL display is based on a VA panel and offers a high contrast ratio of 3,000:1. The KB272HL provides darker black shades for more detailed details in the shadows and dark areas of the picture compared to other panel technologies (IPS and TN) which have a maximum contrast ratio of 1000:1 at this price point.
That makes viewing experience more immersive, particularly if you are watching the screen in a dark room.
Also the Acer KB272HL has a reasonable peak brightness of 300-nits and it supports 8-bit color depth with a color gamut of 72 percent NTSC (~100 percent sRGB) which is very good for a monitor at this size.
While the colors are not as accurate and consistent as the ones of equally priced IPS models, at this price range they are still vibrant and rich, and much better than any TN panel display.
VA panels often have wide viewing angles of 178 degrees allowing you to look at the screen at virtually any angle without having the picture's colors, contrast and brightness noticeably declining in quality.
Now:
The Acer KB272HL 27′′ display has a 19201080 (Full HD) pixel screen size. That results in a pixel density of 81 pixels per inch on a 27-screen. That means you won't have plenty of screen real estate available as small items like icons and text will take up plenty of space.
In addition, the details aren't going to be clear and sharp, but rather pixelated. In video games, you can alleviate this by applying some anti-aliasing.
This isn't generally a big issue for video games and watching movies as the image becomes less pixel-and the further away from the screen you 're. In reality, you won't be able to discern the individual pixels at around 42′′ (107 cm) away from the screen.
However, if you do a lot of work on your PC which involves reading and typing, we really don't recommend this pixel density and you should look for a 27″ 1440p monitor or a 24″ 1080p display instead.