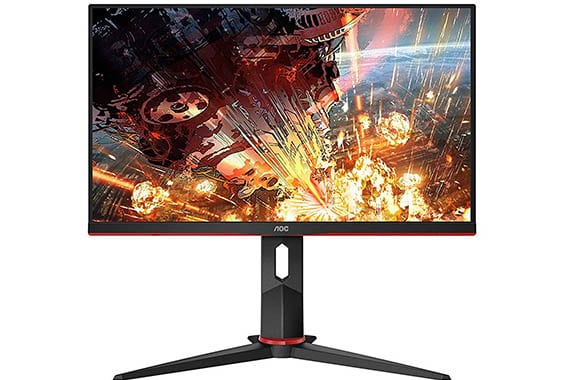 AOC 24G2 Specification
The AOC 24G2 monitor is based on PANDA's IPS panel with broad 178 ° viewing angles, a peak brightness defined at 250-nit (which even gets a bit above 300-nits), a static contrast ratio of ~1,000:1, and a dithered 8-bit color depth (6-bit + 2-bit FRC) that is indistinguishable from true 8-bit depth in real usage.
This is an entry-level high refresh rate IPS panel display which serves as an alternative to the popular TN and VA models.
Besides offering the most accurate color reproduction and the widest viewing angles, IPS panels also offer a good balance between TN and VA variants when it comes to the overall performance and image quality.
Today, VA panels offer the highest contrast ratio (~3,000:1) resulting in darker blacks as compared to TN and IPS displays with a contrast ratio of ~1,000:1. IPS panels, however, still offer punchier colors and have no black smearing problems associated with VA panels, which is why most users prefer IPS technology.
At Delta E < 2 the AOC 24G2 is factory-calibrated which is ideal for color-critical tasks at the entry stage. Of course there are better color-critical displays for professional use, but the AOC 24G2 will do just fine for the basic content creation.
In addition, the monitor covers 126% of the sRGB color space for saturated and more lifelike colors
. Not all users prefer this saturated look as it makes colors appear neon-like: reds can appear pinkish, yellow is kind of orange, etc.
Fortunately, the AOC 24G2 has a sRGB mode that limits the color gamut to the standard sRGB space for more accurate reproduction of colours.
Because this is a 24′′ display, 1080p resolution provides a decent pixel density of 92.56 PPI (pixels per inch) resulting in plenty of screen space available and sharp non-pixelated details.
What's more, 1080p on your GPU / CPU is not very challenging, allowing you to take full advantage of the 144Hz refresh rate of the display even with budget / mid-range PC builds.