The AOC CU32V3 is a 32-inch curved monitor, 1500R Curved VA. For a VA screen, it has an excellent contrast ratio, which results in deep black. The remarkably low input lag and quick response support FreeSync Variable Refresh Rate technology for reduced screen tearing in games.
Features
4K UHD 3840×2160 resolution
Super-Curve 1500R VA panel: Displays accurate colours with wide-viewing angles that adapt better to the natural curvature of your eyes.
LowBlue mode: Reduces the amount of harmful blue light emission to help prevent damage to the eye.
FlickerFree panel
VESA compatible
Picture Quality
The AOC CU32V3 monitor is based on a VA panel with (4K UHD)3840 x 2160@60 Hz resolution, a 250 cd/m² brightness, 16:9 aspect ratio, and 16.7 Million colour depth.
Like with most VA panel displays, the AOC CU32V3 has a solid contrast ratio. Black appear in the dark as they ought to.
At 3840 x 2160 screen size, the UHD resolution is perfect for gaming, watching movies and content creation. This V3 series monitor provides exceptionally clear and detailed visuals with an impressive 182 pixels per inch.
The CU32V3 display will make your content come alive by using high-performance panels with a high-density pixel count.
With its finely tuned VA Panel with 99% NTSC, 121% SRGB, and 8%, the monitor has an incredibly sharp, ultra-clear and vibrant display.
Performance
The standard curvature matching our eye curvature and ultra-high definition resolution provides an immersive viewing experience.
The AOC CU32V3 is fitted with LowBlue mode and flicker-free backlighting for low eye fatigue and comfortable long viewing sessions.
Decent brightness rating on SDR. The AOC CU32V3 is bright, which is enough to battle glare in most rooms. The brightness, however, remains relatively constant across various content, while small highlights are slightly shorter.
The CU32V3 also has a feature to split the screen into different sections. For those multitaskers out there, this is a useful function, being able to split the screen into separate areas can give you the flexibility you want in a monitor. If you're at the workplace or home, this will increase efficiency and productivity.
The monitor has 178/178º viewing angle (CR10).
The CU32V3 has an impressive colour accuracy out of the box.
Design & Connectivity
The wide curved panel with thin bezels and a polished base give the display a stylish look.
With a unique architecture with VESA mount support, the AOC CU32V3 has an excellent build quality and ergonomics. The curved screen design offers an appealing yet subtle immersion effect that is focused on you.
The stand supports the monitor well, and the borders are thin and suitable for a multi-monitor setup.
The back of the monitor is very plain with VESA compatible for flexible mounting options (100x100mm).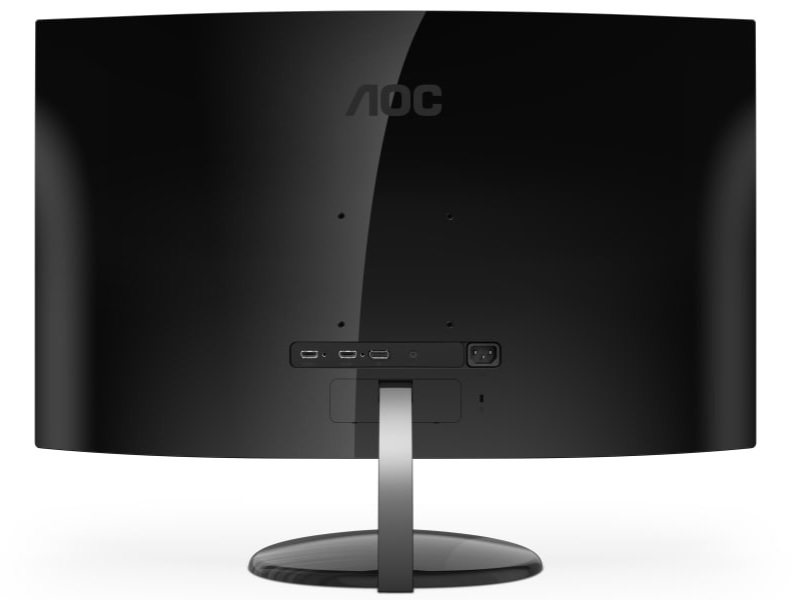 Connectivity options include 3.5 mm audio out, HDMI 2.0, USB 3.0, and DisplayPort 1.2.
Deals, Price & Similar Monitors
AOC CU32V3 32" Super-Curved 4K UHD Monitor, 1500R Curved VA, 4ms, 121% sRGB Coverage / 90% DCI-P3, HDMI 2.0/DisplayPort, VESA, Black
AOC 32" (31. 5" viewable) widescreen monitor with 4K UHD 3840x2160 resolution
Super-Curve 1500R VA panel that displays more accurate colors with wide-viewing angles that comform better to the natural curvature of your eyes
Super-Color Wide color gamut with 121% sRGB, 90% Adobe RGB and 89. 8% DCI-P3 area coverage for truer colors, ideal for graphics intensive work and viewing sessions
LowBlue mode that reduces the amount of harmful blue spectrum of light to help prevent damages. Powersource 100 - 240V 50/60Hz
FlickerFree panel that displays video signal without flickering backlighting for comfortable viewing without fatigue
2x HDMI 2. 0 and 1x DisplayPort 1. 2 port with Earphone Out port (HDMI cable included)
VESA compatible for flexible mounting options (100x100mm) and Kensington slot for security options
Should You Buy The AOC CU32V3
AOC CU32V3 displays provide you with crystal clear images if you are a designer needing high comprehensive details for CAD-CAM designs, using three-dimensional design applications or a financial wizard working on large spreadsheets.
Some advantage of having this monitor include:
Pros
Clear Responsive display.
Curvature is awesome.
VESA compatible.
The display comes on quickly when connecting to Macbook.
Last update on 2020-09-15 / Amazon