There's plenty of 24 "144Hz versions to choose from for anyone searching for a relatively compact, relatively inexpensive and highly responsive gaming experience. Many of these models are using the same panel, one that was tried, verified, and first seen in 2011. The ASUS VG248QG, with their updated VG248QG, joins this far from exclusive club. The monitor has a shared modern look with some of the other recent gaming monitors at the company. There are no 'gamer touches' light or gaudy, everything is simply low-key matt black plastic. The bezels are single-stage bezels with a reasonably slender bezel which covers almost the entire border of the panel. The OSD (On Screen Display) is operated by pressable buttons at the back of the monitor, running as seen from the front along the right side. Often features a joystick for intuitive control.
A 24 "TN (Twisted Nematic) panel is used, a version of AUO M240HW01 which is very common now. This features a resolution of 1920 x 1080 (Full HD), has static contrast of 1000:1, and horizontal/vertical viewing angles specified at 170°/160°. A 165Hz refresh rate is supported for compatible AMD GPUs and systems, with Adaptive-Sync and hence AMD FreeSync. With this technology active, the variable refresh rate range is 40 – 165Hz, which is also enabled by LFC (Low Framerate Compensation) to help out under 40fps. The monitor uses a medium matte anti-glare screen surface and is supported by 8-bit color (via 6-bit + FRC dithering). A flicker-free WLED backlight is used offering ~sRGB colour gamut coverage and a typical maximum luminance of 350 cd/m². A 0.5ms grey to grey response time is specified, with the ASUS ELMB (Enhanced Motion Blur) strobe backlight mode also being offered. This allows the backlight to pulse at a pace matching the refresh rate of the show, significantly raising the eye movement and apparent flickering induced by this. It can be used irrespective of GPU vendor, but can't be activated at the same time as FreeSync.
Many appealing features include 'Ultra Low Blue Light' (LBL) settings and a range of 'GamePlus' settings including; a crosshair on-screen, timer, and FPS counter. The FPS counter is simply a refresh rate indicator, so, while FreeSync is working, it acts like an FPS counter. The stand is centrally attached to the screen and can be removed to make way for a 100 x 100 mm alternative VESA solution. The stand provided provides full ergonomic flexibility; tilt (33° backwards, 5° forwards), height change (130 mm or 5.12 inches), pivot (90° left, 90° right) and pivot (90° clockwise or anti-clockwise portrait rotation). The monitor's rear is matt black plastic with an unusual embossed design. The down-firing ports include; Dual-Link DVI, DP 1.2a, and HDMI 1.4. Also includes a 3.5 mm headphone jack and 2 x 2W speakers.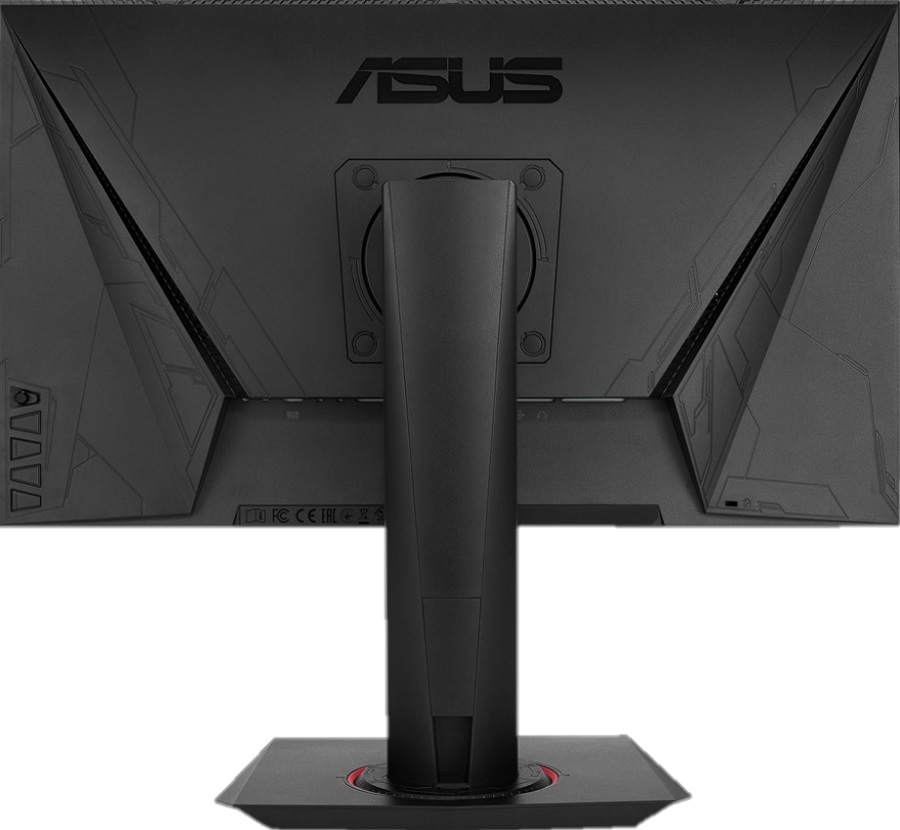 Further information on the monitor can be found on ASUS's website. Information related to price and availability still forthcoming.