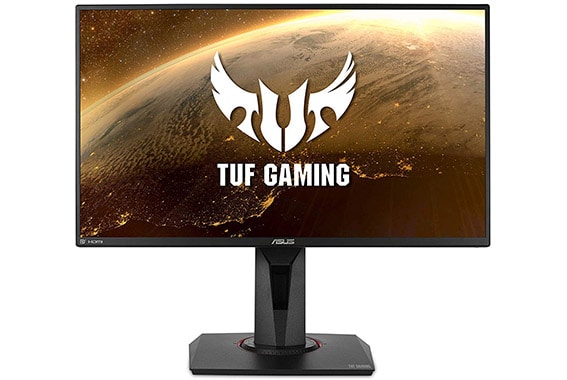 Although the ASUS VG259Q IPS monitor's picture quality is nothing remarkable (it's fine, but nothing exceptional given its price), its output is the spot where things start to heat up.
A 144Hz monitor has as little motion blur and trailing behind fast-moving objects as possible with a pixel response time speed of 3ms (GtG).
Now you'd need to set the 'TraceFree' overdrive option to 100 to get the specified 3ms response time; it scales from 0 to 100 in increments of 20.
This does trigger a lot of pixel overshooting, however. We suggest limiting it to 40 or 60 because you won't have any overshoot or ghosting in that direction.
Additionally, you can get 1ms MPRT (Moving Picture Response Time) utilizing the Extreme Low Motion Blur (ELMB) technology.
This technology further eliminates visible ghosting by strobing backlight and provides clarity of motion similar to that of CRT. Nevertheless, it can only be used at set 100Hz, 120Hz, or 144Hz refresh speeds.
Additionally, it decreases the overall luminance of the display when operating, but with a peak brightness of 400-nit, even with this function allowed, the display is more than bright enough.
The ASUS VG259Q supports AMD FreeSync with the 48-144Hz refresh rate (VRR) range and support for LFC (Low Framerate Compensation)
This is now classified as G-SYNC compliant by NVIDIA, and you should be allowed to use FreeSync over DisplayPort with compliant NVIDIA cards (GTX 10 series or newer).
FreeSync helps the display to adjust the refresh rate depending on the frame rates of GPU, reducing screen flickering and stuttering without introducing a severe input lag penalty like VSYNC.
Notice that it is not possible to allow ELMB and FreeSync simultaneously on that display.
Finally, the input lag of the ASUS VG259Q is ~4ms which makes 144Hz imperceptible delay.