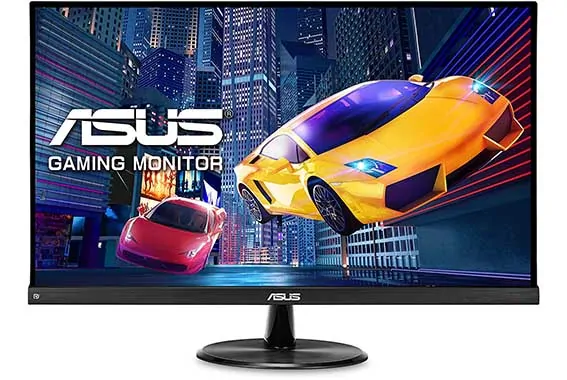 Input lag is the length of time it takes a monitor to react and display your commands. The input lag of the ASUS VP249QGR is ~4ms at 144Hz which ensures you should not be able to detect any delays whatsoever.
The level of reaction time is the time pixels take to transition from one color to the next.
Today, ASUS defines 4ms (GtG-Gray to Gray Pixel Transition) pixel response time, but that is not the true average response time.
And you'll be able to spot slight motion blur and trailing behind fast-moving objects in fast-paced videogames.
The level of noticeable ghosting can be accepted absolutely and there is not almost as much black smearing as there is on other VA panel monitors.
There are better IPS monitors out there, too, although they are costlier.
The ASUS VG249QGR is generally fast enough for competitive gaming, but if you're really sensitive to motion blur and can't afford the more expensive IPS models, you might want to consider an alternative TN panel.
Keep in mind that TN panels lack almost as good colors and view angles as IPS.
On the run, the monitor supports AMD FreeSync over DisplayPort and HDMI with a refresh rate (VRR) range of 48-144Hz.
This technology helps the display to synchronize its refresh rate to the frame rates of GPU which prevents screen tearing and stuttering with a minimal penalty for input lag (~1ms).
Although the ASUS VG249QGR is not rated as NVIDIA-compatible G-SYNC, when used with compliant NVIDIA GPUs (GTX 10 series or newer), VRR operates without any problems.
Alternatively you can use the technology ELMB (Extreme Low Motion Blur).
oIf enabled, ELMB stbesr the monitor's backlight which reduces the perceived ghosting and provides smoother clarity of motion. ELMB can not therefore be used concurrently with FreeSync.
In addition, while active, it will reduce the maximum brightness of the monitor, so only use it when playing fast-paced video games (if you prefer it over FreeSync/G-SYNC).