ASUS XG438Q 43 inch 120Hz 4K VA model with VESA DisplayHDR 600 Specification.
The ~43″ '4K' monitors provide an immersive yet quite pixel-dense experience. But the restricted (60Hz) refresh rate puts off a lot of gamers in particular. The ROG (Republic of Gamers) Strix line-up ASUS XG438Q shakes things up dramatically by increasing the refresh rate and adding numerous other attractive features. The monitor retains ROG styling elements such as the interesting stand despite its large size TV . The bezels are made of matte black plastic and have a single-stage design without much visible panel border. The bottom bezel also has a black plastic, brushed-textured area towards the bottom. The OSD (On Screen Display) is controlled by a joystick and some pressable buttons, running vertically down the right side at the back of the monitor as seen from the front. A ROG light signature down-firing projector is also included, which projects a red logo down onto the desk. As usual this can be disabled if you prefer.
The monitor has a UHD '4 K' (3840 x 2160) VA panel with a refresh rate of 120Hz and a soft matte anti-glare screen cover, which is assumed to be from AU Optronics. AMD FreeSync 2 is also supported on compatible GPUs with a 48-120Hz variable refresh rate. This iteration of the technology also mandates LFC (Low Frame Rate Compensation) to provide an even more effective operating range. Another aspect of FreeSync 2 is support for the HDR10 pipeline, which is not tied specifically to FreeSync and can be enjoyed by Nvidia GPU users with compatible GPUs as well. The monitor supports VESA DisplayHDR 600 which includes effective local backlight dimming as a requirement, among other things. This allows for a significant boost in contrast to SDR (Standard Dynamic Range) LCDs, coupled with high brightness pulses (600 cd / m2 +) for screen areas displaying the brightest content.. 10-bit colour is supported and a flicker-free LED backlight is employed with supports for 90% DCI-P3 – two other important boxes for VESA DisplayHDR 600 ticked. The typical maximum luminance is 450 cd/m², with enhanced luminance pulses for HDR as noted previously. A range of 'Low Blue Light' (LBL) setting are also included to aid relaxing viewing, particularly useful in the hours leading up to bed when blue light exposure should be minimised.
Other interesting features include a 4ms gray to gray response time (cautionary approach as usual) and 'GameFast Input technology' which effectively means that this monitor can have fairly low input lag. Also included are PiP (Picture in Picture) and PbP (Picture by Picture) settings, with support for up to 3 devices simultaneously. The rear of the monitor is matte black plastic with various ROG styling elements, including an interesting imprinted pattern. The included stand appears to offer tilt as the only ergonomic flexibility and there is no immediate provision for VESA mounting. It might be possible to include an adaptor of some description, but that is not currently confirmed. Monitor ports include: DP 1.4, 3 HDMI 2.0 ports, 2 upstream USB 3.0 ports, a 3.5 mm audio input and a 3.5 mm headphone jack. For fairly powerful sound output 2 x 10W speakers are also included.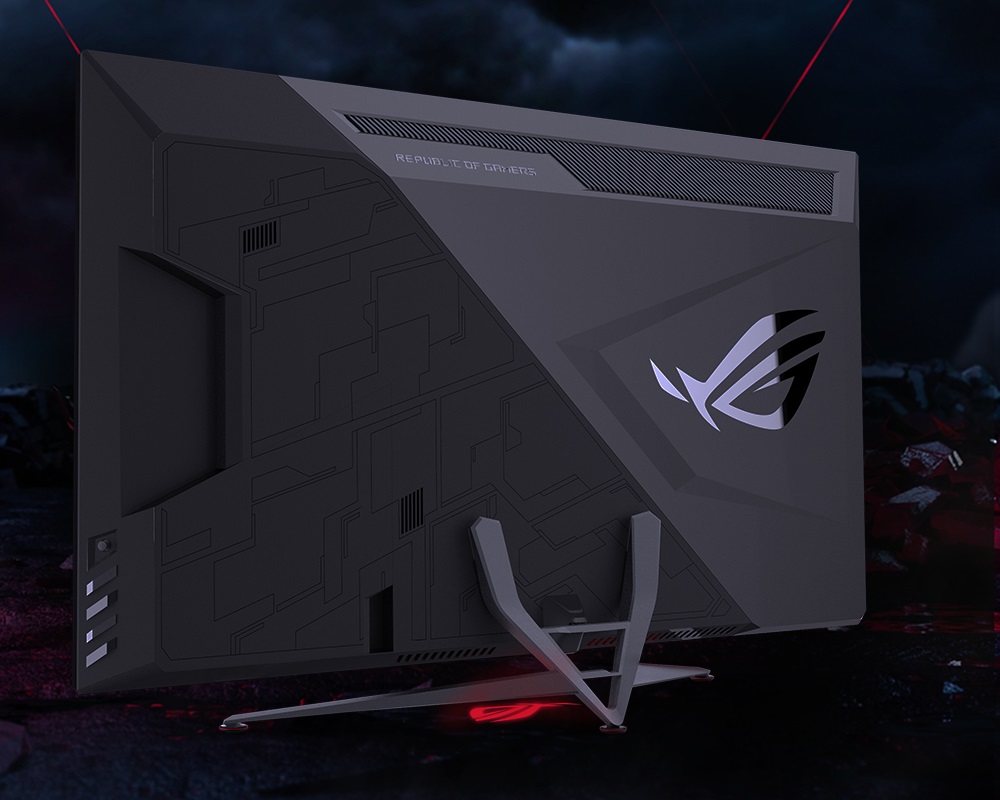 Further information can be found on this ROG page. The monitor will be available from late August with an RRP of £1099.