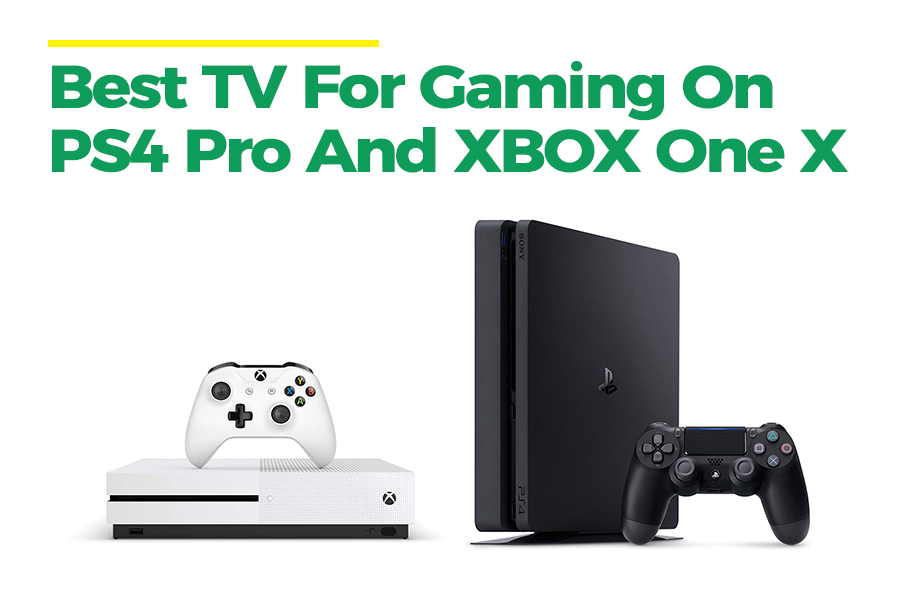 Below are our recommendations for the Best 4K TVs For Gaming On PS4 Pro And XBOX One X in 2019 through 2020.
These 4k TVs have low input signals that are great for gaming with nice features low input lag, variable refresh rate etc.
TCL 6 Series: Best Budget 4k Gaming TV
The TCL 6 Series 2019 model is the best budget 4k TV for gaming.
The 4K TCL Roku TV S-Series provides superb Ultra HD picture quality with four times the Full HD resolution to provide enhanced quality and detail. This TV should be  able to stream games for Google Stadia.
Where To Buy: 
Picture Quality
The TCL 6 Series has very good picture quality. The contrast with local dimming increases when playing games in a dark room, given the full range of blacks can darken without sacrificing much brightness.
The semi bright finish of the TCL 6 series works very well to diffuse reflection on the screen. If however, the reflections in a light room can be a little distractive, especially if the source faces the TV.
This TV's SDR peak brightness and HDR peak brightness is good. The TV performs well in a brightly lit room based on the SDR peak brightness.
Gaming Performance
In game mode, the TV has an excellent low input lag, and it has a great response time so games are free from distorting during gameplay.
The viewing angle on the TCL 6 Series is poor when viewed from an angle, the brightness falls rapidly.
High-dynamic (HDR) technology provides bright and accurate colors for a lifelike experience when playing video games.
Reasons To Buy.
Low input lag
Quick response time
Smooth OS
Vizio PQ65-F1: Best 4k LED Gaming TV
Vizio P Series Quantum 2018 is the best 4k LED gaming TV.
The quantum-dot display and 192 dimming zones deliver vivid colors and deep black levels, but has distracting light blooms.
Where To Buy: 
Gaming Performance
The Vizio Game picture preset has this amazing low-latency game setting, which can be activated in any picture.
On Vizio the HDMI 5 is a HDMI 1.4 input that is not adaptable for 4K/60p content. Please keep in mind that you can drop the game lag a little bit further when you use Xbox One S, X, and PlayStation 4 Pro but you'll lose 4k resolution for your gaming.You will need to activate HDMI 2.0 input for the HDMI port you use to connect the console to get full HDR and color support.
The viewing angles are somewhat limited, with a slight shift of color at the edges of the screen when viewed from the side of the TV.
Reasons To Buy.
Quantum-dot display offers vibrant color
Local dimming offers deep blacks and brighter brights.
HDR10, Dolby Vision and HLG
Excellent UHD
Excellent  HD resolution
Great for gamers
Samsung Q70/Q70R QLED: Best 4k FreeSync Gaming TV For Xbox One X
Samsung Q70/Q70R QLED TV is the best 4k FreeSync gaming TV which has a remarkable gaming experience thanks to its response time, low input lag, and FreeSync VRR support that helps deliver an almost tear-free gaming experience.
This TV's picture quality has an impressive native contrast ratio as well as a full array of local dimming features.
Where To Buy: 
Gaming Performance
The response time is less than 4ms, minimizing motion blur. The input lag can be reduced from 15ms to 6ms based no the Variable Refresh Rate (VRR) with FreeSync. This gives a good gaming experience without tearing.
The Auto Low Latency Mode (ALLM) feature on Samsung Q70R automatically minimizes the latency between controller and screen playback that makes the Playstation 4 Pro or Xbox One X / S a great companion.
Reasons To Buy.
Quantum-dot display offers vibrant color
Local dimming offers deep blacks and brighter brights.
HDR10, Dolby Vision and HLG
Excellent UHD resolution
Excellent HD resolution
Great for gamers
Samsung UN55NU8000: Best 4K TV For Xbox One X
The Samsung UE55NU8000 features a 55-inch 4 K Ultra HD LCD screen with edge LED backlighting. It supports high dynamic range (HDR), including Tizen Smart TV.
Other range of TVs includes:
Samsung UE49NU8000: 49-inch
Samsung UE65NU8000: 65-inch
Samsung UE75NU8000: 75-inch
Samsung UE82NU8000: 82-inch
A 60Hz panel is used in the 49-inch version but the other sizes are all 120Hz.
Where To Buy: 
Gaming Performance
The input lag is unbelievably low, 18ms, which even the most demanding player would like.
There is also no risk of picture retention or screen burn, because this is an LCD TV. That implies marathon gaming sessions are not only responsive but also free of worry making it great for gaming.
The Samsung NU8000 has low input lag and is able to provide impressive HDR images. The NU8000 has two unique gaming features, Auto Game Mode and Game Motion Plus-Both technologies make consoles look and play better.
NU8000 identifies that a game console is plugged into it and reduces input lag actively. On the 120Hz native Tv screens, movement blur control and motion interpolation are both specially calibrated for high performance.
Reasons To Buy.
Good contrast ratios and black levels
Sturdy design
Very low input lag
Great for gamers
Reasons Not To Buy.
No Dolby Vision HDR
Average HDR performance
Sony XBR-55X900F: Premium 4K HDR TV for Xbox One X and PS4 Pro
The Sony XBR-55X900F is an LCD (LED) 55-inch Ultra HD TV with 3840×2160 (2160p) native resolution. It has backlighting with full array LEDs.
Because of its direct LED backlight, the television is rather thick. The bezels are very thin and look very clean on the back. The TV can be easily installed on the wall, but if it's too near to the wall, some inputs could be difficult to achieve.
The X900F offers premium design, performance, and full-array LED backlighting.
The X900F is equipped with four HDMI inputs, all supporting 4K HDR sources and 2.2 HDCP ; HDMI 2 and 3 are intended for high bandwidth sources such as 4K UHD Blu-ray player, 4K HDR gaming console, or HTPC / Gaming PC.
Where To Buy: 
Reasons To Buy.
Smart application of HDR brightness
Great color accuracy
low input lag
Great for gamers
Reasons Not To Buy.
Sound isn't great
Expensive