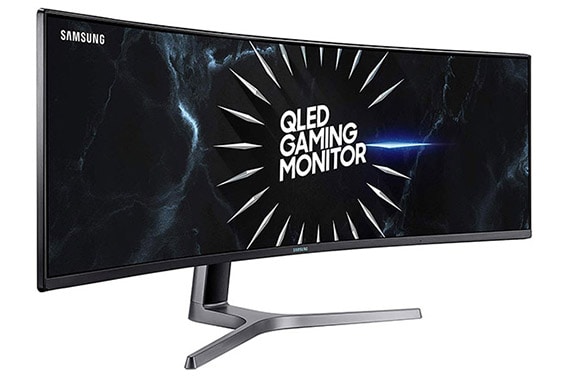 The Samsung C49RG9 display offers additional gaming features, apart from AMD FreeSync and Low Input Lag, including Black Stabilizer (improves visibility in dark scenes), Virtual Aim Point (custom crosshairs), and pre-calibrated presets for FPS, RTS, RPG, and AOS genres.
Other settings include Film, Dynamic Contrast, High Brightness, Unique and SRGB, as well as three Game Customization Setting profiles.
There's also the Eye Saver mode that filters out the harmful low-blue lights which, in addition to the Samsung C49RG9's flicker-free backlight, ensures comfortable viewing even after prolonged usage.
The OSD (On-Screen Display) menu of Samsung C49RG9 is compact and user-friendly, and you can easily navigate through it using the right side joystick under the screen. There are three additional hotkeys which you can use to quickly access the customized picture profiles.
Normal image adjustments, such as contrast, brightness, sharpness, temperature of colour, gamma (three profiles) are also available. You can also turn on / off the local dimming; when HDR content is detected, it automatically switches on.
Also it supports PBP (Picture by Picture). However, if you enable PBP, you won't be able to use, among other things, HDR, FreeSync and local dimming.