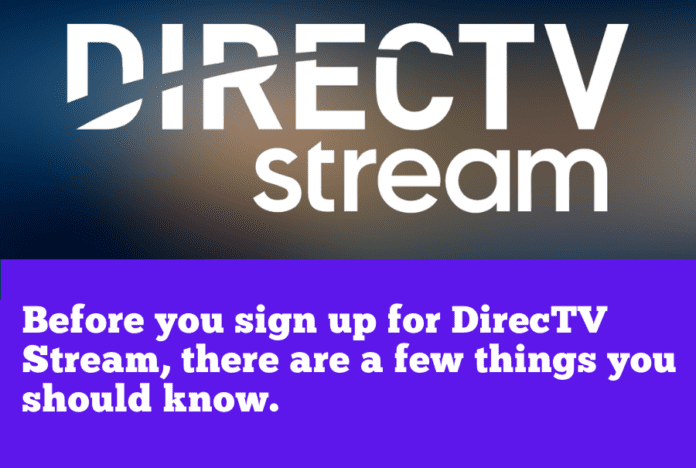 Before you sign up for DIRECTV STREAM, you should know a few things. In this post, I'll guide you through all you need to know about the popular streaming service owned by DIRECTV.
This live TV streaming service is one of the alternatives for folks who want to get rid of their cable subscription. DIRECTV STREAM is an excellent live TV streaming service but overpriced. DIRECTV might be your ideal live TV streamer if you prefer the vast channel lineups of satellite TV and don't mind an equally significant monthly fee.
What Is DIRECTV STREAM?
DIRECTV Stream is a collection of DIRECTV's streaming multichannel television services available in the United States. The name refers to three different services that use the same infrastructure and software.
AT&T/live DIRECTV's TV streaming service, formerly known as AT&T TV, AT&T TV NOW, DIRECTV NOW, AT&T Watch TV, and AT&T U-verse, has been rebranded as DIRECTV STREAM. It's been a long journey to get to this point in the streaming process.
Like its previous transformations, DIRECTV is more of a continuation with a new image for its live TV streaming service. It still has some of the most channels in streaming, but it also costs nearly the same as a satellite TV subscription, evading the unspoken rule that streaming is cheaper than traditional TV.
Pros
It has a large number of channels.

There are no contracts.

Trials of premium channels are available for free.
Cons
Prohibitively expensive plans.

Cloud DVR is only available in limited quantities (20 hrs.).
Best DIRECTV STREAM Streaming Device
Last Amazon price update was: September 25, 2023 4:27 am
All prices mentioned above are in United States dollar.
This product is available at Amazon.com.
At amazon.com you can purchase DirecTV RC65 4-Device Universal IR Remote for only $9.25
The lowest price of Hisense H4 Series LED Roku Smart TV was obtained on September 25, 2023 4:27 am.
Deals and promotions
New users may enjoy three months of free premium channels on some DIRECTV STREAM plans, including HBO Max, SHOWTIME, CINEMAX, and EPIX.
Plans and pricing
Local networks such as CBS, NBC, FOX, ABC, The CW, and Telemundo are included in all DIRECTV STREAM subscriptions. They also have a Univision national feed. Only a few markets have live local channels accessible. On-demand programming, on the other hand, is available the next day in all places.
| | | | | |
| --- | --- | --- | --- | --- |
| Price | Channels | Streams | Cloud DVR | Details |
| $69.99/mo. | 65+ | 3 (20 inside home network) | 20 hrs. (Unlimited, $10.00/mo.) | DIRECTV  ENTERTAINMENT |
| $89.99/mo. | 90+ | 3 (20 inside home network) | 20 hrs. (Unlimited, $10.00/mo.) | DIRECTV CHOICE |
| $104.99/mo. | 130+ | 3 (20 inside home network) | 20 hrs. (Unlimited, $10.00/mo.) | DIRECTV  ULTIMATE |
| $149.99/mo. | 140+ | 3 (20 inside home network) | 20 hrs. (Unlimited, $10.00/mo.) | DIRECTV  PREMIER |
Data is current as of the date of publication. Offers and availability are subject to change and vary by region.
The plans for DIRECTV are the same as for DIRECTV satellite, except that DIRECTV does not require yearly commitments or a receiver box or roof dish. It does offer the option of renting a branded streaming box for an extra $10 a month, but we recommend using or purchasing your streaming device instead.
DIRECTV STREAM compared. the rest of the pack
| | | | | | |
| --- | --- | --- | --- | --- | --- |
| Price | Editorial rating | Channels | Multiple streams | Cloud DVR | Details |
| $69.99–$149.99/mo. | 3.5/5 | 65–140+ | 3 | 20 hrs. | DIRECTV STREAM |
| $64.99/mo. | 4.5/5 | 100+ | 3 | Unlimited (9 mos.) | YouTube TV |
| $69.99–$75.99/mo. | 4.2/5 | 70+ | 2 | 50 hrs. | Hulu + Live TV |
| $25.00/mo. | 3.7/5 | 60+ | 3 | Unlimited (1 yr.) | Philo |
| $64.99–$79.99/mo. | 4.0/5 | 100–150+ | 3–10 | 250–1,000 hrs. | fuboTV |
| $35.00–$50.00/mo. | 3.9/5 | 30–50+ | 1–4 | 50 hrs. | Sling TV |
| $55.00/mo. | 3.8/5 | 95+ | 3 | N/A | Vidgo |
Data is current as of the date of publication. Offers and availability are subject to change and vary by region.
Along with its high channel count, DIRECTV does not stand out from the rest of the live TV streaming market. FuboTV is the closest competitor, with similarly broad channel lineups and expensive plans—but at least fuboTV includes some cloud DVR storage.
Channels and add-ons
YouTube TV and Hulu + Live offer more live TV channels at a lower monthly fee (about $5) than DIRECTV STREAM's cheapest package, ENTERTAINMENT. If you want to spend, PREMIER from DIRECTV STREAM comes with over 140 channels, including HBO, CINEMAX, SHOWTIME, and STARZ.
HBO MaxTM, Cinemax®, EPIX®, SHOWTIME®, and STARZ® are examples of premium networks.

Added DIRECTV STREAM devices.

Cloud DVR has an unlimited storage capacity.

Movies Extra Pack includes new releases, family classics, documentaries, and more.

Deportes and Espaol now have Latino networks.
Top DIRECTV STREAM Streaming Device
[amazon box="B08C1W5N87,B07YNLBS7R,B079QHML21,B089655HQV,B07WVFCVJN,B09BKCQYRN" template="table"]
Sports channels
CBS Sports Network, FOX Sports 1, FOX Sports 2, Sportsman Channel, ESPN, ESPN2, ESPNews, ESPNU, MLB Network, NBA League Pass, NBA TV, Golf Channel, Tennis Channel, and more are available depending on the TV package.
Local channels
Local stations such as ABC, NBC, Fox, CBS, PBS, and others are available, as well as several prominent cable channels. By reading on, read more about DIRECTV STREAM pricing, channels, and other features.
Specs and features
You'll get access to over 7,000 applications with the DIRECTV STREAM device, including HBO Max, Prime Video, Netflix, and more. You may also receive unlimited hours of Cloud DVR recordings with DIRECTV STREAM. As a result, you won't miss any of your favourite episodes!
Simultaneous streams
You can watch up to three streams on mobile or streaming devices that aren't connected to your home network. Out of the house, you can use up to three streaming devices. Remember that only two streaming devices connected to a TV can be utilized outside the house.
Video and audio quality
Like other live TV streaming services, DIRECTV STREAM broadcasts in 720p HD live, with 1080p or Blu-ray programming accessible on demand. On-demand or live, DIRECTV STREAM does not support 4K Ultra HD.
Does DIRECTV Come With DVR Capabilities? 
With a $70 monthly subscription cost, one would expect DIRECTV STREAM to provide an excellent cloud DVR solution.
DIRECTV now offers unlimited cloud DVR storage, up from the previous restriction of 20 hours with each package.
How Do You Stream DIRECTV?
DIRECTV also sells a streaming device specifically designed for its service. It leverages Google technology for voice commands and provides one-click access to your AT&T channel guide and cloud DVR.
Compatible devices
Amazon Fire TV, Apple TV, Google Chromecast, Roku, Android TV, iPhone/iPad, Android Phone/Tablet, Mac, Windows, LG Smart TV, Samsung Smart TV, Sony Smart TV, and VIZIO Smart TV are all compatible with DIRECTV.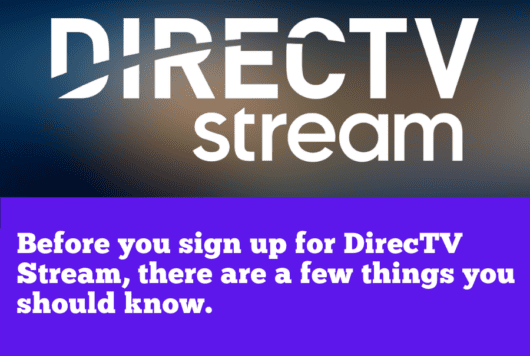 FAQ
How do I log in?
DirecTV stream login.
Select Account, followed by TV Provider, and Sign in from the Settings menu. DIRECTV STREAM should be found and selected. If appropriate, choose your DIRECTV user ID from the list, enter a new one and follow the prompts. Select Done and enter your password.
Mobile app
Stream TV, movies, or episodes from your DVR playlist on your mobile device using the DIRECTV App.
Does DIRECTV STREAM Allow for Multiple Streams? 
This is one place where DIRECTV excels.
Regardless of the bundle you select, you'll have access to up to 20 simultaneous broadcasts on your home network. You can watch three streams simultaneously if you're not connected to your home network.
DIRECTV Streaming Device
You'll need a good streaming device if you're looking to cut the cord and ditch your expensive cable or satellite TV service. And one of the best on the market is the DIRECTV Genie.
The DIRECTV Genie is a streaming device that allows you to watch all your favorite shows and movies without an expensive cable or satellite TV subscription. You can also use it to record up to five shows at once, and it even comes with a free HopperGO mobile streaming device.
If you're looking for a streaming device that can do it all, the DIRECTV Genie is the one for you.
What are some of the other benefits of the DIRECTV Genie?
In addition to being a great streaming device, the DIRECTV Genie has several other benefits. For one, it's very easy to use. You can plug it into your TV and start streaming your favorite shows and movies.