EmoGraphy Stress Management by Philips Can Monitor and Predict Stress
Stress is a natural physical and mental reaction to life experiences, requiring your body to respond and adjust. Stress can be of benefit to your health for immediate , short-term situations. If stress levels stay high much longer than is appropriate for survival, however, it can take a toll on your health. Forty-three percent of all adults suffer adverse health effects from stress.
Keeping this in mind, Philips has developed a novel technology that provides insight into the daily stress level of a person in a way that is easy to comprehend. By providing insight into stress levels and cognitive brain functioning, EmoGraphy helps users achieve and maintain a better and more balanced lifestyle. It can predict changes in the cognitive zone to an hour ahead, and advises the user in plain language on appropriate actions.
"We know a lot of messages are coming from the body about tension and over-arousal. People appear to ignore the signs the body is sending and this contributes to greater stress. In many studies, we have shown that skin conductance is an objective indicator of sympathetic activity of the nervous system, which suggests an anticipation and stress. The sweat glands are uniquely coupled to the sympathetic nervous system and give very clean measurements," Navin Natoewal, the Head of Integrated Technology Solutions at Philips, told MedGadget in an interview.
"One of the signs of sympathetic activity of the nervous system is stress-induced release of cortisol which can have a detrimental effect on the cognitive capacity. We find a special algorithm in which we can compare the behavior of the sweat gland to the levels of cortisol in your body. We are focusing mainly with our technology to give the immediate arousal measurements into what we call the stress level and we interpret that signal into what we call the cognitive zone," Natoewal added.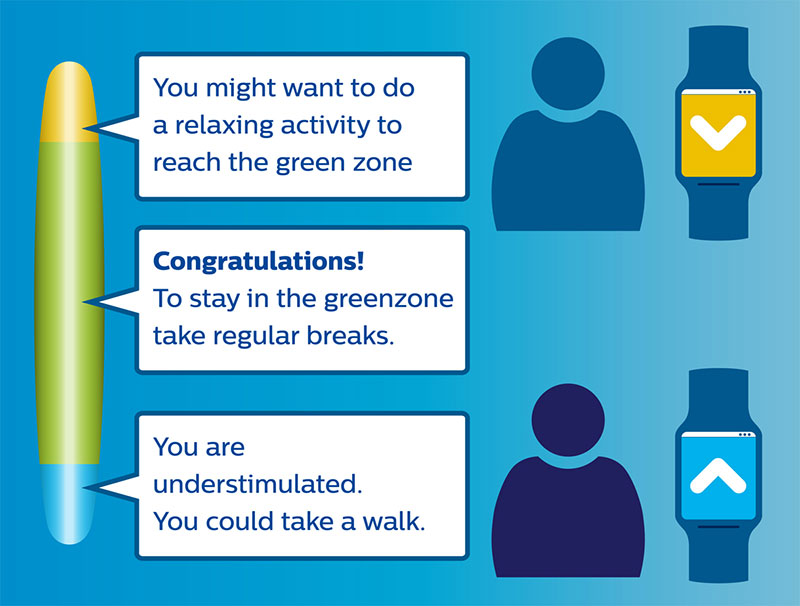 EmoGraphy Provides:
Easy, unobtrusive, short-term daily stress monitoring
Wearable device that can be worn comfortably on the wrist and elsewhere
Current level of stress in StressLevel score
CognitiveZone classification and insight into personal situation
Interpretation and explanation of data and advice for optimal performance
Improved wellbeing and quality of life
Predictions of CognitiveZone changes 60 minutes in advance
The most creative wearables event will be back at SEMICON West on 9-10 July to celebrate the 34th edition of the WT Wearable Technologies Conference Series in beautiful San Francisco. Topics include data mining in professional sports, prevention, wearable care and recovery, the future of digital health , medicine and adherence, intelligent patches, workflow optimization and workforce safety and much more – featuring international leaders and experts of the wearables industry´s biggest names including Abbott, Autodesk, Datwyler, Kopin, Maxim Integrated, Multek, NFLPA, Omron, SharkDreams, Qualcomm,and many more.