UltraWide monitors are renowned for their work and their play, with ~38′′ models offering an especially expensive and immersive experience. The LG 38WN95C (38WN95C-W thanks to the white back and silver stand) continues from the 38GL950 G, with certain identical characteristics with a different collection of functions. At the top and sides, the screen has fairly slender bezels, a dual-stage design with a panel border around the image plus a slim, hard plastic exterior component. When the monitor is switched off, the panel border is flush with the rest of the screen and appears to blend seamlessly within. The OSD (On Screen Display) is controlled by a central joystick beneath the bottom bezel.
The monitor adopts an IPS 37.5 "UltraWide Nano screen with a curve of 3840 x 1600, 2300R, and support for a refresh rate of 144Hz. It is an aspect ratio of 24:10 (12:5 or 2.4:1), which gives a comparable number of pixels to a 16:9 display of 27′′ 2560 x 1440 (WQHD). The monitor supports Adaptive-Sync on compatible GPUs and systems, including AMD FreeSync and the 'Nvidia G-SYNC Compatible Mode.' This contrasts with the use of a G-SYNC module by the 38GL950 G, and includes variable overdrive support for careful pixel response optimization over a wide range of refresh rates. And unlike the 'G' model, this one in the OSD does not include the factory 170Hz overclock option. The variable refresh rate range has not yet been revealed but with LFC (Low Framerate Compensation) we expect 48 – 144Hz. Other aspects to note include a 1000:1 static contrast ratio and 178/178° viewing angles, with the use of a light matte anti-glare screen surface. Included is a WLED backlight with improved phosphors (the 'Nano' in Nano IPS), resulting in a 98 percent DCI-P3 color gamut coverage and a standard average luminance of 450 cd/m2. With VESA DisplayHDR 600 supported, this boosts to at least 600 cd/m2 when the monitor responds to HDR10 content. This makes the use of 10-bits in the pipeline and enables the monitor to put the expansive color gamut and fairly high luminance rates it good use.
It also needs some sort of local backlight dimming – a move up in HDR output from the 'G' model's "more limited VESA Display400 support.
It defines a response period of 1ms which is propaganda and not a practical indicator of the normal response times of pixels that you would anticipate. The monitor's back is mainly shiny white plastic, with a silver frame. The provided stand offers adjustment of tilt and height, to be mounted using a mechanism for easy release. It can be quickly removed and substituted, if desired, with an alternate solution that is 100 x 100 mm VESA compliant. The ports are mounted, facing backwards, in a recessed position to the right of the stand attachment stage.
These include Thunderbolt 3 (high speed USB-C with DP Alt mode and PD), DP 1.4, 2 HDMI 2.0 ports, 2 USB 3.0 ports (plus upstream), a 3.5 mm headphone socket, and an optional battery dock (DC device input). Model 'G' loses the Thunderbolt 3 port and this device's extra HDMI 2.0 interface.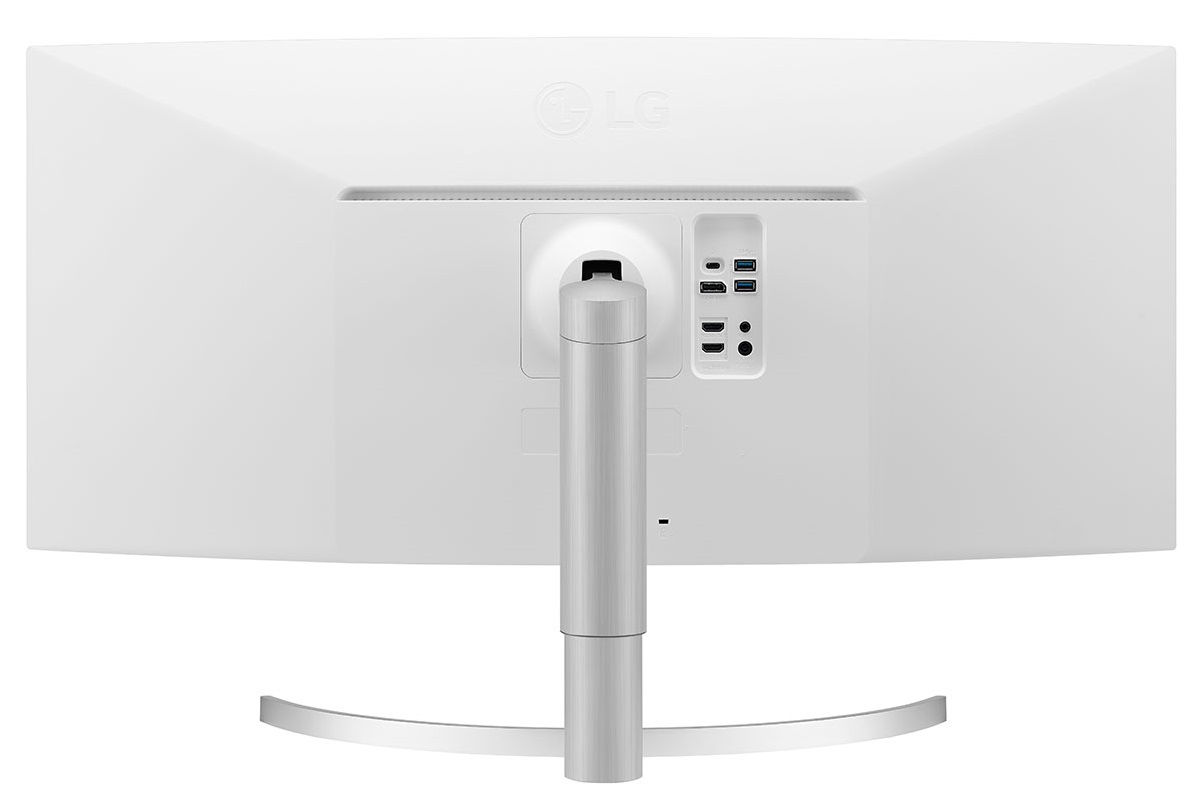 The monitor makes its debut at CES 2020 where more details can be presented on price and availability. Until H2 2020, we wouldn't plan to see the pattern, more info if we have them.