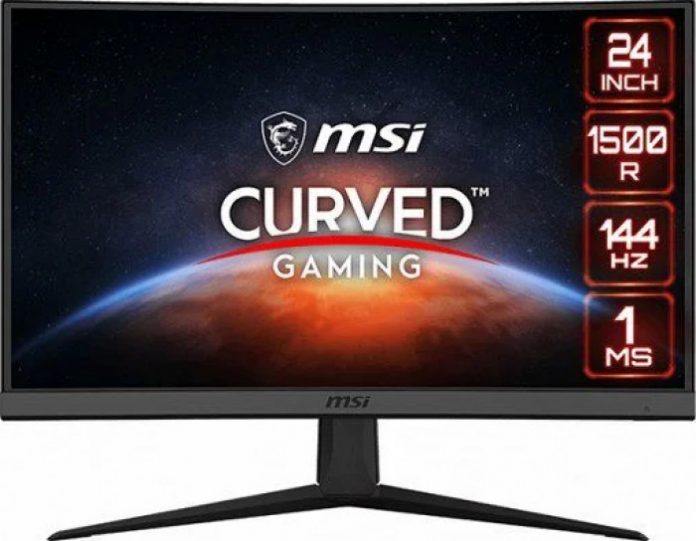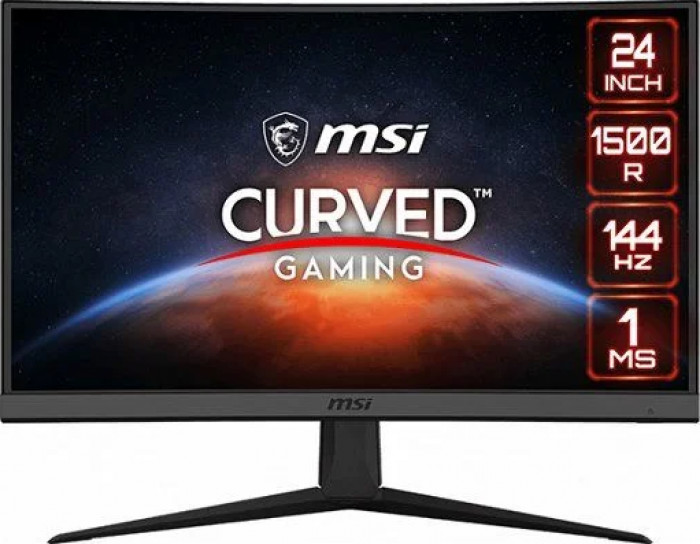 The MSI Optix G24C6P is a 24-inch gaming monitor that debuted in 2020. It has an excellent refresh rate of 144Hz, a 1 ms response time VA LED, and is equipped with a 19201080 resolution. The Optix G24C6P monitor will give you the competitive edge you need. Gamers can choose the mode based on the type of game players to experience the best visual effects.
Display:
The MSI 24-inch gaming monitor comes in a curved shape. The radius of the curvature is 1500R, which is suitable for a wide range of applications, from general computing to gaming. The curved panel also helps with gameplay immersion, making you feel more connected to the entire experience. 
The Optix monitor is equipped with a 144Hz refresh rate and a 1ms response time, which has the most benefit in fast-moving game genres such as first-person shooters, fighters, racing sims, real-time strategy, and sports. 
This display monitor has 250 nits of brightness, a 3000:1 static contrast ratio, 93 PPI, and a viewing angle of up to 178°. In addition, the MSI Optix G24C6P covers 92 percent of the DCI-P3 colour space and supports 24-bit filtering and 8-bit display.
Design and Connectivity:
The MSI Optix G24C6P has a 3-sided borderless bezel design. The stand of this monitor is highly controversial owing to its sturdy form, which features a broad style with a V-shaped base. Aside from that, it offers a wide range of adjustments, including the capacity to tilt and alter the height, which is essential for gamers.
This Optix monitor supports a VESA mount, which is a major benefit for the monitor if you wish to mount it on the wall. In general, the Optix G24C6P has a nice overall aesthetic. It has an 11.2 Displayport, 21.4 HDMI, and 1Earphone out for connectivity.
Features:
The MSI Optix G24C6P supports AMD FreeSync technology, a premium technology that improves smooth gameplay and eliminates the negative effects of learning. It also supports Low Blue Light, a wide colour gamut, a frameless design, night vision, and Flicker-free technology.
Performance:
The build quality of the MSI Optix G24C6P monitor is good. The curved gaming monitor has wider gamut coverage compared to general monitors. Gameplay colours and details look more realistic and refined, pushing immersion to its limit.
With the super narrow bezel, you can enjoy the best immersion possible in the latest games with a multi-monitor setup up to 180 degrees. You'll also enjoy better continuity between screens while playing games, working, or general computing. However, with a large viewing angle, the MSI gaming monitor has more leeway for placing your monitor in your setup without giving up.
The MSI Optix Gaming monitor is built to make you as comfortable as possible while gaming. Through adjustments of tilting (-5°~20°), lowering, and raising (0~130mm), you can easily change the position of the monitor for maximum ergonomics and optimum viewing experiences. The MSI Anti-flicker technology provides a very comfortable viewing experience by reducing the amount of flicker.
In addition, the MSI Optix G24C6P monitor is optimized to produce a lower amount of blue light than the standard LCD monitor, so you can game for longer periods without eye fatigue.
Price and Similar Monitors:
The MSI Optix G24C6P is reasonably priced. Other similar monitors include the HP M27F, the HP M24FW, the Dell P2222H, the Lenovo Q27q-1L, and the Lenovo Q24h-10.
[content-egg-block template=offers_list]
[content-egg-block template=price_statistics]
Conclusion:
If you're looking for a gaming monitor with an ultra-high refresh rate and a fast response time, then the MSI Optix G24C6P monitor might be a good option.
Specifications
Type
Monitor
Release Date
2020
Brand
MSI
Model Series
G
Model Number
Optix G24C6P
Alias
3BA0
Size
24″ (inches)
Panel
VA
Display
Screen Size Class
24″ (inches)
Diagonal Size
23.58 in
59.9 cm
599 mm
1.97 ft
Screen Width
20.53 in
52.1 cm
521.395 mm
1.71 ft
Screen Height
11.55 in
29.3 cm
293.285 mm
0.96 ft
Display Curvature
1500
Display Type
VA
Display Bit Depth
8 bits
Max Number of Colors
16777216
Bits
24
Screen Aspect Ratio
16:9
Screen Resolution
1920 x 1080
Screen Pixel Pitch
0.272 mm
Screen Pixel Density
93 ppi
Backlight Source
W-LED
DCI P3
92%
sRGB
115.5 %
Screen Brightness
250 cd/m²
Static Screen Contrast
3000 : 1
Dynamic Screen Contrast
100000000 : 1
Screen Horizontal Viewing Angle
178 °
Screen Vertical Viewing Angle
178 °
Display Coating
Anti-glare/Matte
3D
No
Size, weight, color
Case Width with Stand
21.13 in
53.7 cm
536.7 mm
1.76 ft
Case Height with Stand
17.26 in
43.8 cm
438.3 mm
1.44 ft
Case Depth with Stand
9.1 in
23.1 cm
231.2 mm
0.76 ft
Case Weight with Stand
4.5 kg
10 lbs
Case Color
Black
Hardware
Connectivity
1 x 3.5 mm Audio Out
2 x HDMI 1.4 (a)
1 x DisplayPort 1.2 (b)
Audio
Features
Cool Features
Frameless design
Low Blue Light
Wide Color Gamut
Night Vision
AMD FreeSync Premium
Flicker-free technology
Extra Features
Anti-theft stand lock slot – Kensington
Ergonomics
Vesa Mount Support
Yes
VESA Interface Standard Size
100 x 100
Removable VESA Stand
Yes
Height Adjustment
Yes
Height Adjustment Range
130 mm
13 cm
5.1181 in
0.4265 ft
Landscape or Portrait Pivot Support
No
Left or Right Swivel Support
No
Forward and Backward Tilt Support
Yes
Forward Tilt
5 °
Backward Tilt
20 °
Frequency and Interpolation
Vertical Digital Frequency
48 Hz – 144 Hz
Horizontal Digital Frequency
55.3 kHz – 162 kHz
Screen Interpolation Measurement Unit
NULL
Power
110V
100 V – 120 V
220V
220 V – 240 V
AC Frequency
50 Hz – 60 Hz
Electric Power in Amperes
1.5 A
Average Power Consumption
45 W
Accessories
Extras
DisplayPort cable (optional)
HDMI cable (optional)
Certificates and Standards
Usage and Storage Requirements
Safe Operating Temperature Level
0 °C – 40 °C
32 °F – 104 °F
Safe Operating Humidity Level
20 % – 90 %
Internal Storage Temperature
-20 °C – 60 °C
-4 °F – 140 °F
Internal Storage Humidity
10 % – 90 %
Max Operating Altitude
5000
Find out more by visiting asus.com. Please note that while we attempt to provide as accurate specs as possible, we are not guaranteeing that they are 100% correct.
Last update on 2023-02-07 / Amazon