Optune, a Novocure wearable device, delivers Tumor Treatment Fields (TTFields) to slow or stop the division of gioblastoma cancer cells, and destroys the cancer without disrupting healthy, resting cells.
Gioblastoma is the most aggressive cancer within the brain. Glioblastoma can occur at any age, but tends to occur more often in older adults. It can cause worsening headaches, nausea, vomiting and seizures.
Optune® is intended for diagnosis of adult patients (aged 22 or older) with histologically verified multiforme (GBM) gioblastoma.
Here's How Optune Works
GBM tumor cells divide quickly, creating more and more cells that form a mass, or tumor
When Optune is turned on, it creates low-intensity, wave-like electric fields call Tumor Treating Fields, or TTFields. These TTFields are delivered by transducer arrays to the location of a GBM tumor
TTFields interfere with GBM tumor cell division. This action slows or stops GBM cells from dividing, and may destroy them
Clinical Study
A major clinical trial found that there was a greater chance for people who added Optune to chemotherapy to live longer than those who used chemotherapy alone.
Study participants were also able to maintain their mental, emotional, and physical well-being longer than chemotherapy participants alone.
At 2 years, nearly half of people on Optune plus chemotherapy were alive compared to 31 per cent of people on chemotherapy alone, reports optune.
Getting Used to Optune
Though getting used to wearing Optune may take some time, head shaving and applying the transducer arrays will soon become part of your daily routine.
One can receive continuous treatment with Optune almost anywhere. With the permission of the doctor, you will use Optune when you are going through your everyday life at work, traveling and social functions. Your nCompass team at Novocure can work with you to provide ongoing support, such as additional batteries, that can make using Optune at your office or while traveling possible.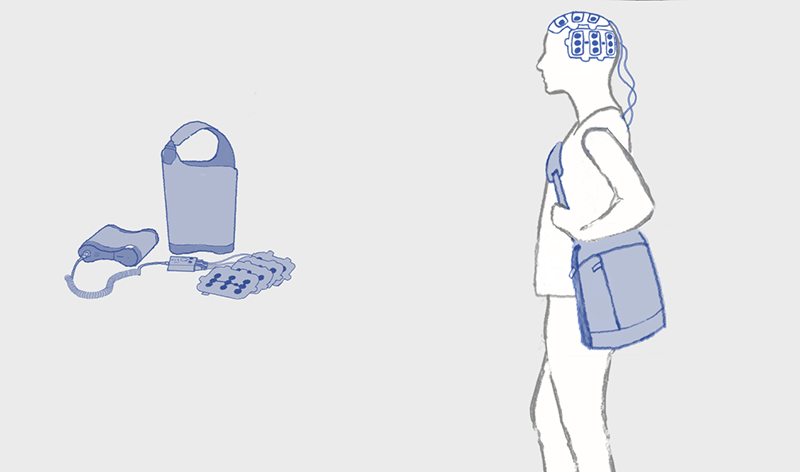 Optune is Not for Everyone
Talk to your doctor if you have:
An implanted medical device (programmable shunt), skull defect (missing bone with no replacement), or bullet fragment. The device has not been tested in people with implanted electronic devices, which may cause the devices not to work properly, and the device has not been tested in people with skull defects or bullet fragments, which may cause Optune not to work properly
A known sensitivity to conductive hydrogels (the gel on the arrays placed on the scalp like the ones used on EKGs). When the device comes into contact with the skin, it may cause more redness and itching or may rarely cause a life-threatening allergic reaction
If you are pregnant, or expect to become pregnant, do not use the device. Whether the device is safe or effective during pregnancy isn't known.
The most creative wearables event will be back at SEMICON West on 9-10 July to celebrate the 34th edition of the WT Wearable Technologies Conference Series in beautiful San Francisco. Topics include data analytics in professional sports, wearable prevention, treatment and rehabilitation, the future of digital health, medication and adherence, smart patches, optimisation of workflow and, workflow optimization and workforce safety and much more – featuring international leaders and experts of the wearables industry´s biggest names including Abbott, Autodesk, Datwyler, Kopin, Maxim Integrated, Multek, NFLPA, Omron, SharkDreams, Qualcomm,and many more.