Many clinical trials are postponed or even cancelled because of patient recruitment problems. In relation to the inquiry sites, many patients can not be hired because of their positions. No participant will want to go to the trial site to get their blood pressure tested, drive through rush hour traffic. Large and scattered patient populations for a given trial are often outside of a reasonable commuting distance from a site; hence, they never volunteer.
The Internet of Things ( IoT) however is revolutionizing clinical research. The medical devices connected to Oracle can collect clinical data from the patients remotely. Oracle applications collect and interpret the data to provide a real-time analysis of patient progress for researchers.
"Our goal is to make adoption of new technology easier. For managers of clinical programs, protocol designers and leads in therapy, our concept is to simplify choosing the right wearable/sensor/app/ source(s) that make sense for their trials and rapidly move into patient recruitment mode," reports Oracle.
Each participant in the clinical trial wears a connected mHealth sensor with a unique identifier. The device collects patient data, such as blood pressure and blood glucose levels, remotely and continuously, and then transfers the information to the patient's mobile device, via Bluetooth. The data is routed from there via Oracle Health Sciences mHealth Connector Cloud Service, a company-class, highly secure, scalable, integration platform that aggregates, summarizes, and disseminates the targeted data into Oracle Health Sciences InForm or Oracle Health Sciences Data Management Workbench (DMW).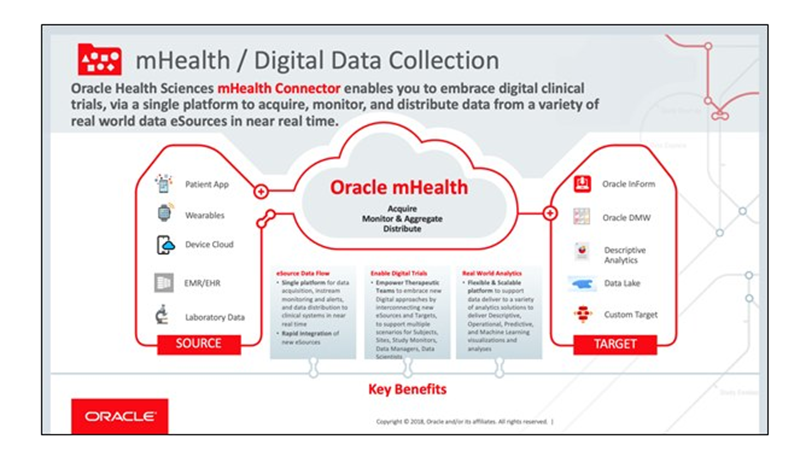 This unified interface decreases the number of technological integration points, optimizes third party vendor experiences and simplifies how emerging approaches can be adopted by clinical trial teams as part of a digital trial programme.
"We at Oracle Health Sciences are excited about this innovative platform and the potential it gives the industry to accept remote monitoring of patients and virtual research,  methodologies at scale across all clinical trials. We look forward to sharing more of our vision for digital trials with you," says Oracle.
The most creative wearables event will be back at SEMICON West on 9-10 July to celebrate the 34th edition of the WT Wearable Technologies Conference Series in beautiful San Francisco. Topics include data analytics in professional sports, wearable prevention, treatment and rehabilitation, the future of digital health, medication and adherence, smart patches, optimisation of workflow and, workflow optimization and workforce safety and much more – featuring international leaders and experts of the wearables industry´s biggest names including Abbott, Autodesk, Datwyler, Kopin, Maxim Integrated, Multek, NFLPA, Omron, SharkDreams, Qualcomm,and many more.