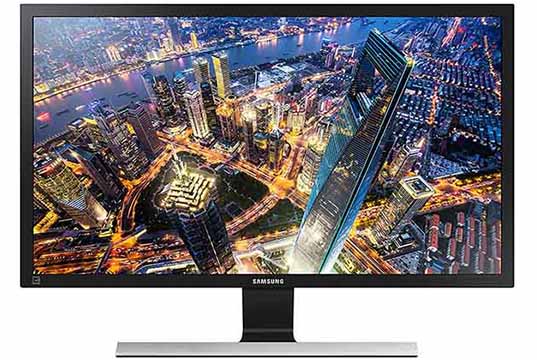 Introduction
Looking for an affordable 4K display for use with Xbox One X, PS4 Pro or PC?
The Samsung U28E590D is by far the cheapest 4K Ultra HD display you can find.
But as usual-there's a catch.
Image Quality
Next, Samsung's 28′′ 4K Ultra HD monitor features a TN panel that offers inferior image quality due to the narrow viewing angles and poorer color reproduction compared to IPS and VA panels.
So don't expect colors which are particularly rich and vivid.
However, the 4K resolution should make sure the picture is clear and bright, with full clarity and plenty of screen space.
For PC use, bear in mind that due to its rich pixel density, the display may need scaling, and some applications do not scale all that well. We can't blame the Samsung U28E590D display for this because certain applications are just poorly optimised.
In addition to 10-bit color depth with dithering (8-bit + FRC) and 4K resolution, the Samsung U28E590D display boasts a 370-nit peak luminance that will ensure a bright picture even in well-lit areas.
When viewing from skewed angles, which is an expected drawback of TN panels, the viewing angles of 160 ° vertically and 170 ° horizontally will cause the picture to shift in color / contrast.
Performance
Some of the key things to keep in mind about the Samsung U28E590D is that it doesn't support HDCP 2.2 which means you won't be able to view HDCP2.2-protected content in 4K on Blu-rays and other streaming platforms like Amazon and Netflix.
The monitor does support HDCP 1.4, which means you can play the secure 4K content at 1080p max. PC and console games and apps will run at 4K without any issues though.
Although TN panels have the worst viewing angles and colours, they have the fastest response time of just 1ms.
This eliminates all ghosting, trailing, and movement distortion of fast-moving objects in fast-paced games, providing you with a smooth buttery movement visibility.
The image straight out of the box is a little bit underwhelming, but after a quick calibration it gets significantly better
Finally, the Samsung U28E590D input lag performance is very good and amounts to ~9ms.
Features
While AMD FreeSync is supported by the Samsung U28E590D, it does not function over HDMI, only over DisplayPort. And if you have an Xbox One, you 're not going to be able to use the refresh rate feature on the display.
On the other hand, if you have a graphics card compatible with FreeSync, the Samsung U28E590D refresh rate can be matched with the frame rate of the GPU, thereby reducing screen tearing and stuttering.
Update: FreeSync now works with compatible NVIDIA G-SYNC graphics cards on some monitors, too. We couldn't get VRR to work with NVIDIA cards on the Samsung UE590 however.
Other features include Picture by Picture modes and Picture by Picture as well as a Game Mode that improves visibility in dark parts of the game by altering the gamma curvature.
The monitor is also flicker-free and has an eye saver feature that provides protection against the harmful blue-lights so you can function or play for hours without straining your eyes.
Design & Connectivity
There are relatively thick bezels in the Samsung U28E590D while the T-shaped stand offers secure support and does not cause the screen to wobble. There are no other ergonomic capabilities apart from -5/20 degree of tilt change, although VESA can mount it through 75 x 75 mm holes.
Connectivity comprises two 2.0 HDMI ports, a DisplayPort and a jack for the headphones. The Samsung U28E590D FreeSync range is 40-60Hz/FPS over DisplayPort.
Price & Similar Monitors
The current price is about $300-$350 for the Samsung U28E590D, making it one of the most affordable 4 K monitors available.
Alternatively, test the ASUS VP28UQG which supports FreeSync over HDMI as well as the HDCP 2.2 compatibility, making it an ideal monitor for Xbox One.
If you are interested in an inexpensive IPS Panel 4K monitor, the LG 27UD58 is an outstanding monitor for the price with HDCP 2.2 support.
Conclusion
The Samsung U28E590D is a decent pick, if you're looking for a cheap 4 K monitor for console and PC gaming.
Investing a bit extra for a better monitor, however, will give you the ability to view HDCP-protected content in 4 K as well as better colors (LG 27UD58) or better performance (ASUS VP28UQG) for Xbox One.