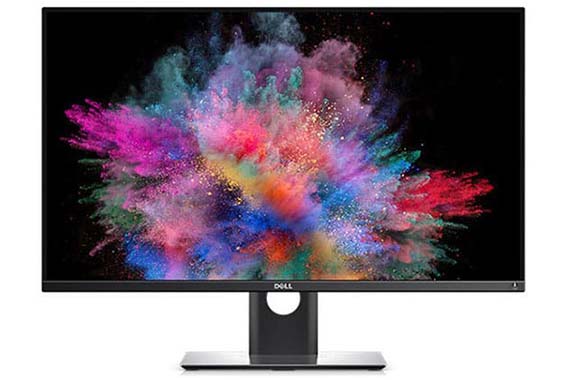 For color reproduction, OLED displays do not rely on a backlight or dimming zones which allow them to create perfect colors with true black shades.
In addition, they have an incredibly fast response time speed in fast-paced games for next to no ghosting and motion blur.
Numerous OLED TV models are already available which take full advantage of the above points, but what about OLED monitors?
We will keep you posted in this article about everything related to OLED monitors including potential release dates or any updates to market status.
Dell UP3017Q – The First OLED Monitor
About the Monitor
Dell's was the first OLED Monitor to be released. At first, it was supposed to have a refresh rate of 120Hz and a price tag of $5,000 but eventually, instead, Dell released the UP3017Q monitor with a refresh rate of $3,500 and 60Hz.
Image Quality
The Dell UP3017Q OLED PC monitor features true 10-bit color depth with an outstanding range of colors covering 100% sRGB, Adobe RGB, and Rec709 as well as 97.5% DCI-P3 and 85.8% Rec20 color spaces.
The image quality of this OLED display is breathtaking in combination with its 4K Ultra HD resolution and a stunning 400,000:1 static contrast ratio as opposed to the standard 1,000:1 contrast of other panel technologies.
However, one aspect that still has the upper hand on the LED displays is luminance. The Dell UP3017Q is no match for high-end LED monitors with full-array local dimming like the ASUS PG27UQ or the Dell UP2718Q, with a peak brightness of 300-nits.
Performance
On the other hand, OLED displays do not suffer from bleeding from backlight and IPS glow and have wider viewing angles than LED panels such as IPS and VA opposed.
OLEDs then again have problems with image burn-in and image retention, where if a static image remains on the screen for too long, it can burn in permanently or temporarily – though there are ways to prevent this.
The Dell UP3017Q 4K OLED monitor also has decent input lag performance but it was never particularly interesting for gamers due to its high price and low refresh rate.
These days, for less money, you can get a 4K 144Hz gaming monitor that may not have an OLED panel, but its picture quality is quite close to that of an OLED display and even better in some respects, given that the Dell UP3017Q has no HDR or adaptive sync technology.
Either way the Dell UP3017Q will no longer be available for purchase on Dell's website as of June 2017.
Screen Size
30-inch
Resolution
3840×2160 (UHD)
Panel Type
OLED
Aspect Ratio
16:9 (Widescreen)
Refresh Rate
60Hz
Response Time
0.1ms (black to white)
Ports
DisplayPort 1.2, HDMI 2.0
Other Ports
USB Type C
Brightness
300 cd/m2
Contrast Ratio
400,000:1 (static)
Colors
1.07 billion (true 10-bit)
VESA
Yes (100x100mm)
What We Loved
Stunning colors and image quality
Incredible contrast ratio for true blacks
Quick response time speed
Premium design with versatile ergonomics
What We Didn't Like

Expensive
No HDR support
Low peak brightness
No AMD FreeSync
ASUS ProArt PQ22UC – Upcoming 21.6″ 4K UHD HDR OLED Monitor
About the Monitor
The ASUS ProArt PQ22UC is the second to reveal an OLED monitor. Like model Dell, it is based on Sony and Panasonic's JOLED panel.
Features
It is only 21.6′′ in size, as it is intended to be used as a portable monitor and not for desktop use; you can fold the screen and adjust its height and tilt.
4K resolution on such a small display gives you an incredible pixel density of 204 pixels per inch which ensures amazing detail clarity.
The ASUS PQ22UC JOLED monitor also features a wider range of colors than the Dell model with a color gamut of 99 percent DCI-P3. In fact, it'll support HDR10.
Eventually, the display will be factory-calibrated to Delta E2, two USB-C ports, a micro HDMI port, and support the Calibration feature of ASUS ProArt.
Update: The ASUS PQ22UC will be available at a whopping £4.799 (~$6.300) RRP in April.
Other disclosed specifications confirm a refresh rate of 60Hz, a response time of 0.1ms, and a 14-bit LUT.
Screen Size
21.6-inch
Resolution
3840×2160 (UHD)
Panel Type
OLED
Aspect Ratio
16:9 (Widescreen)
Refresh Rate
60Hz
Response Time
0.1ms (black to white)
Other Ports
USB Type C
Colors
1.07 billion (true 10-bit)
HDR
HDR10
Burning Core – 21.6″ 1080p 144Hz OLED eSports Gaming Monitor
About the Monitor
In December 2018, after the eSports team which helped to develop the monitor, JOLED announced a 21.6′′ 1080p OLED monitor with a 144Hz refresh rate dubbed the Burning Core.
The Burning Core gaming monitor will definitely interest competitive gamers, thanks to OLED 's superior response time speed of ~0.1 ms as opposed to the 1ms of the current-gen TN panels.
There is currently no word about the date of release and price.
On a related note, JOLED works with the IGZO semiconductor for a 13.3′′ laptop on an 8K 120Hz OLED panel too. The stellar 8K resolution (76804320) offers a remarkable 663-pixel density per inch at this screen size.
There is also a 55′′ 4K 120Hz TV with 100 percent DCI-P3 color gamut and a 27′′ 4 K 60Hz OLED monitor for everyday usage in the works.
Dell Alienware 55″ 4K 120Hz OLED Gaming Monitor
About the Monitor
The latest display to be announced on Dell's Alienware is the first 4K 120Hz OLED gaming monitor.
The Dell Alienware 55′′ OLED monitor (not yet available with the complete product name) can support HDR with a color gamut of 95 per cent DCI-P3, practically infinite contrast ratio, and high brightness.
It would also support VRR (variable refresh rate) via AMD FreeSync, and maybe also NVIDIA G-SYNC. Ideally, Dell is collaborating with NVIDIA to render its OLED display one of the G-SYNC Adaptive-Sync compatible monitors.
The Alienware 55′′ OLED display is equipped with a DisplayPort 1.4 and, supposedly, an HDMI 2.1 for 4K HDR at 120Hz.
Finally, the monitor has a very slim design, with adjustments in tilt, swivel and height. For now, no news on pricing though the release date is expected to be sometime in 2019.
Conclusion
That is all the information we have so far concerning OLED monitors. We'll refresh the article first thing if anything pops up, so feel free to visit us again and probably there will be more OLED monitors there.