The Umidigi Uwatch is a fitness smartwatch for men and women. It's an affordable smartwatch. I bought this watch for 9800 Naira in Jumia, Nigeria, in 2021. This watch is also available on Gearbest, Banggood, & Amazon.
Check below for the price list for Umidigi Uwatch.
Umidigi Uwatch is a budget-friendly alternative to other smartwatches on the market, and it offers several features that make it worth considering. I reviewed some of the key features of the Umidigi Uwatch and saw how it compares to other smartwatches.
One of the key features of the Umidigi Uwatch is its price. At just 9800 Naira in Jumia, Nigeria, last year, it is one of the most affordable smartwatches on the market. It is also one of the most feature-rich smartwatches in its price range. For example, it has a colour touch screen, heart rate monitor, sleep tracking, and fitness tracking. It also has several other features that make it a great choice for those on a budget.
The Umidigi Uwatch has good battery life. It has a 210mAh battery that can last up to 30 days on a single charge. This is impressive for a smartwatch, and you won't have to worry about charging it daily like other smartwatches.
The Umidigi Uwatch is a great choice for those looking for an affordable, feature-rich smartwatch. It offers a great battery life and several other features that make it a great choice for those on a budget.
Verdict
The first thing you'll notice about the Umidigi Uwatch is its design.
The Umidigi Uwatch has a lot going for it in the design department. It's made entirely of metal, with a polished bezel and a soft-touch back. The watch is also remarkably thin, at just 9.8mm. And at 42mm in diameter, it's the perfect size for most wrists. The only thing I don't like about the design is the crown, which is too small and flimsy.
The next thing you'll notice about the Umidigi Uwatch is its display.
The Umidigi Uwatch has a 1.39-inch AMOLED display with a resolution of 400×400. That works out to a pixel density of 286ppi, which is good for a smartwatch. The display is also protected by Corning Gorilla Glass 3.
The Umidigi Uwatch has many features, including a heart rate monitor, a sleep tracker, a sedentary reminder, a step counter, a stopwatch, a timer, an alarm, a thermometer, and a barometer. That's a lot of features for a smartwatch, and it's one of the things that sets the Umidigi Uwatch apart from other smartwatches.
The heart rate monitor is not 100% accurate.
Unboxing
Opening the box, you get the Uwatch thank you card from Umidigi. You will notice the metal strap, & rubber strap, user manual, charging cord and an additional set of "pins" if you want to use another brand.
UMIDIGI Uwatch Smartwatch
User Manual
Charging Cable
Silicone Watchband
1 x Metallic Magnetic Watchband
(no AC adapter included)
Design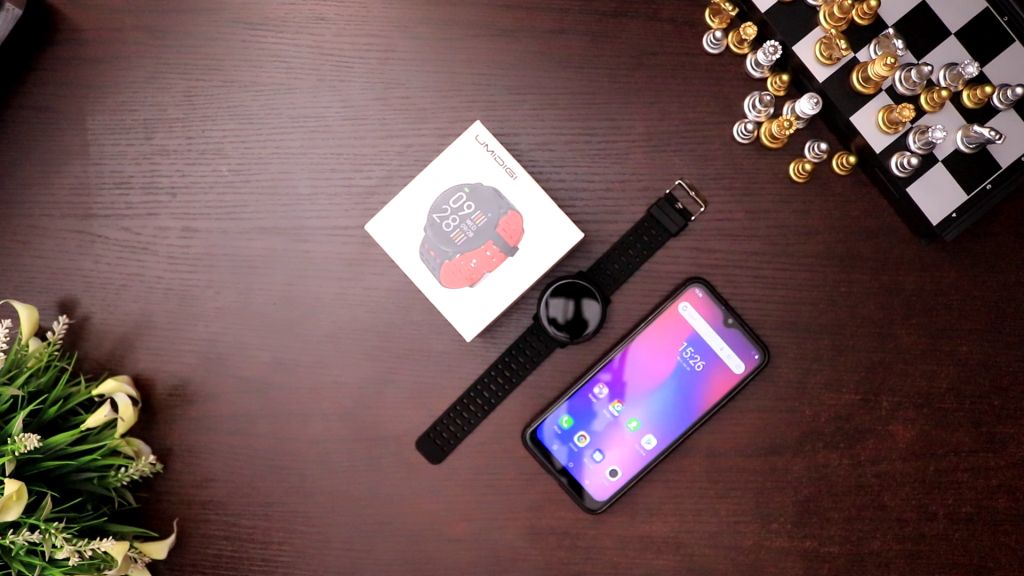 The Umidigi Uwatch comes in a circular dial design with an elegant finish. It has a 1.33-inch high-resolution screen that is wide enough to read all the details you need quickly.
Built with a full-metal unibody plus a 2.5D curved tempered glass screen, the UMIDIGI Uwatch provides a smooth touchscreen control with better viewing angles.
Beneath the circular dial design is a rectangular display, which is visible in most lighting conditions. At the back of the Umidigi Uwatch are a sensor and the charging dock. The charging port is a magnetic dock where the charging cable is attached to charge the smartwatch.
When the charging cable is attached to this device, you'll see a green LED notification on the front to indicate the smartwatch is charging.
The Uwatch has a quick releasable strap. The watch I bought came with two straps a magnetic strap and a silicone strap that combines two styles to make it easy to display in business, leisure and sports etc.
The UMIDIGI UWatch is available in Milanese Black, Silicone Black, and Silicone Red.
Material: Milanese, Silicone
Length: 230mm
Width: 22mm
Display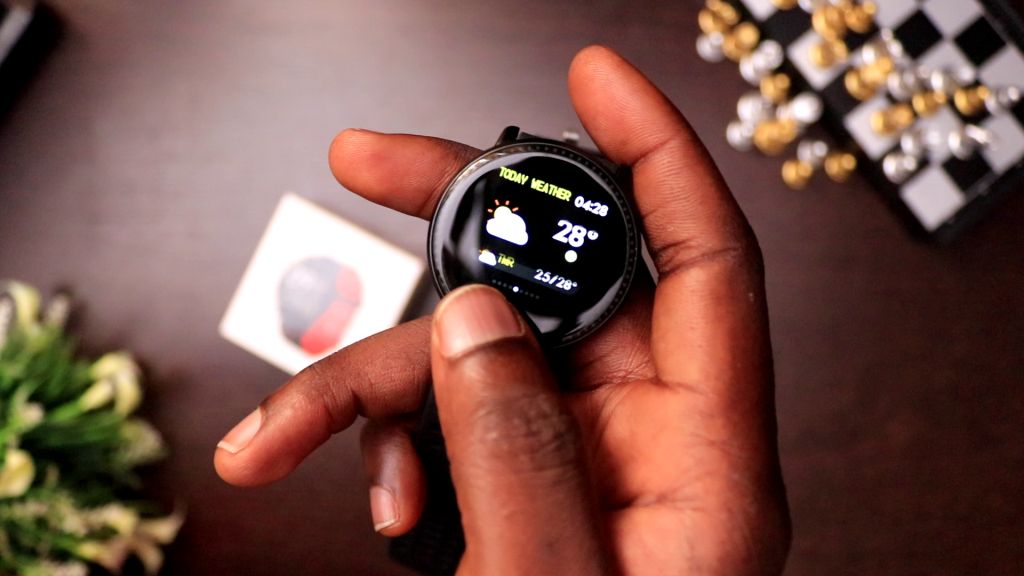 The Umidigi Uwatch has a 1.3-inch IPS display with a screen resolution of 240 x 240 pixels and a 2.5D curved screen.
The navigation mode for Uwatch 2 is a touch screen, but not all part of this smartwatch is touch screen enabled. Only the lower part of the screen is touch-enabled, and it's used to navigate the various menus on the watch.
The Uwatch has 9 different watch faces built-in, different styles, & different moods.
IPS display
Touch screen
3-inch screen
240 x 240 pixels screen resolution
Camera
No camera on this fitness tracker.
Memory
The UMIDIGI UWatch comes with 64KB RAM and 512KB ROM.
Performance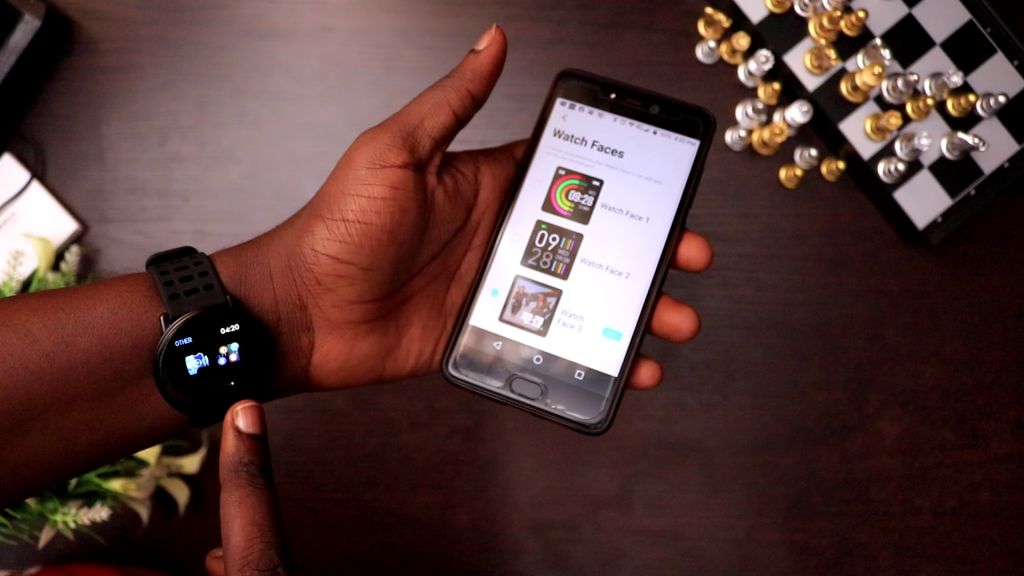 This watch is easy to set up and use.
Umidigi Uwatch runs its operating system compatible with iOS9.0 / Android4.4 and above operating systems. It's powered by Nordic NRF52832 microchip (Nordic semiconductors). The Nordic chipset is known to have good performance and very low battery consumption.
For sports it has several sports modes. Walking, Running, Cycling, Skipping, Badminton, Basketball, Football etc.
Compatible OS: Android, IOS
I didn't test the water resistance for this fitness smart band. Even though the website specified that the Uwatch has an IP67 Water Resistant rating.
Other features of the Uwatch include Heart Rate Monitor, Blood Pressure Monitor, Sleep Monitor, Multi-sport Modes, Pedometer, Call or Message Reminder, Reject Call, Auto Light-up Screen, Custom Wallpaper, Timer, Support Alarm, Calendar, Camera remote control, Anti-lost, BlueTooth Music Control, Weather Forecast.
Features
The Uwatch can receive notifications in real-time from my phone. Notification type includes: incoming notification, Facebook notification, Skype notification, Messenger notification, Twitter notification, Instagram notification, etc. these notifications are alerted by vibration in the application settings. You'll have to configure notifications from the app downloaded from the app store for Android or iOS.
The app you'll use with the UWatch2 is called "Da Fit". The Da Fit app seems like a common app that can be used with different fitness trackers/smartwatches.
An App is required to connect the watch with a smartphone.  You can download the relevant app by scanning the QR code on the user guide or just search for Da Fit app on the Google play store or Apple store.
To play or pause music, tap the watch and change songs without removing your phone from the pocket.
Under sunlight, the display is clear and visible.
Compatible Phone Models: iPhone XS/X/8/8 plus/7/7 plus/6/6s/6 plus/6s plus/5/se ios phones;, Samsung Galaxy S10, S10 Plus, S9, S9 Plus, S8, S8 Plus, S7, S7 Edge, S6, S6 Edge, S5, Samsung Note 8, 5, 4, HTC SONY LG OnePlus Nexus Google pixel/pixel xl BlackBerry, Most IOS 8.0 or Android 4.4 and above smartphones.
Battery.
The Umidigi Uwatch comes with a non-removable 180mAh battery that takes about 2 – 3 hours to charge with a standby time that's more than 25 days. This watch can be used for 6 -10 days if fully charged! (Note: it depends on your usage).
Battery Capacity: 180mAh
Standby Time: About 25 days
Using time: About 5 days
Charging Time: About 3 hours
Charging Type: Magnetic charging/Dock charging/Clamp charging.
Cons
the rectangular display.
Calendar notifications are available to you, but your entire day can't be seen.
The app (da-fit) doesn't have google fit sync support.
if you're looking for something to monitor your blood pressure and pulse, this is not the watch for you. (you must use medical equipment for reference.)
Should You Buy The Umidigi Uwatch?
Who's this device for?
Men or women who like regular watches but want to try a smartwatch. It's comfortable, durable, and designed for business, casual or sports.
This watch checks all the boxes for what I want from a smartwatch, and I'm not really disappointed.
Where to Buy
out of stock
as of September 25, 2023 3:10 am
Conclusion
The UMIDIGI UWatch is a great option for a smartwatch with a sleek design, powerful features, and a long-lasting battery. Its fitness tracking capabilities, notifications, and compatibility with iOS and Android devices make it a versatile and convenient option. If you are in the market for a new smartwatch, the UMIDIGI UWatch is worth considering.